As Halloween slowly but surely approaches, I recall my childhood. More specifically, I recall that comforting plastic smell of my childhood. There is a kind of solace that I found in my youth from the factory fresh odor of an action figure that to this day I find comforting. And how much closer can you get to that smell than a vacu-form plastic mask?
When I was a kid, I was Batman… or Superman, or Spider-Man or James Bond or… uh… some other guy. It was the 70′s which means it was the age of proliferated mass marketing of comic book, TV and film characters.
As such, I was very confused.
I suppose I should be happy that I kept my confusion to 'which character am I' and did not extend to feeling that it was my duty to leave the home and fight crime in my Batman costume. That would be difficult to explain and if I escaped harm from the experience, there most certainly would have been a price to pay from my parents.
Nah, I just looked at these costumes as uniforms. Much in the same way that my GI Joe had separate outfits for different environments, so did I too have many different identities to choose from.
The costumes in question are ofcourse of the Ben Cooper of Collegeville variety.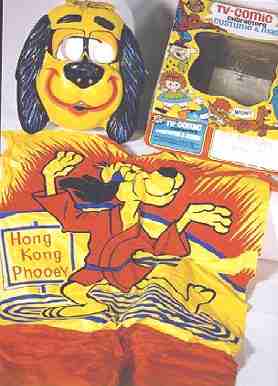 Some of the kids in my neighborhood had fancy home-made costumes that I envied, but in truth, there was nothing quite like dressing up in a plastic Spider-Man smock that featured an illustrated Spider-Man himself leaping at you… his name above the cartoon image to remind anyone you met that you were indeed 'Spider-Man.' It was that kind of attention to detail that I am still amazed at.
The available characters seemed endless. From Star Wars to Star Trek, even the Planet of the Apes characters were available… all in the form of smocks with plastic masks held to my sweaty face with a thin rubberized string which snapped at the slightest pull.
After adulthood inevitable caught up with me I became unsure of what to dress up as for Halloween. It's tough, because your options are actually very limited. You could get a store bought costume that is very elaborate or create your own costume which can be… complicated.
This year I am once again at a loss as to what to do, but I one thing for sure. I won't make the same mistake that I made in 78 when I let my mom buy me a 'Star Wars' costume.
The woman had no idea that a C-3PO outfit would surely get me egged in the street.
Click on the links below for some costume fun:
More silliness at PlaidStallions and Retrocrush