As the release date of the upcoming eleventh Star Trek film, the big bloated hope of an all but dead franchise, nears… things get interesting with the announcement that Simon Pegg will play the part of Chief Engineer 'Scotty'.
Comedic British actor Simon Pegg has been hard at work carving away the dream of any fanboy as he creates and stars in fantastic genre-loving films and TV series. Though he is known stateside for his films Shaun of the Dead and Hot Fuzz, in his homeland he is more popularly associated with arguably the best sitcom ever made, Spaced.
The premise for the series is very simple, two hard luck cases who cannot make their relationships work meet by chance and rent an apartment together. There's a wacky downstairs neighbor named Brian (played by the absolutely brilliant Mark Heap) and the creepy wine-soaked landlady, Marsha. Hilarity ensues as the two unlikely friends fall into a 'will they/won't they' situation.
But it's not the premise that kept viewers rapt every week. Aside from its unique brand of comedy, Spaced contained a series of asides and homages to creator Simon Pegg and Edgar Wright's favorite films and TV programs.
One episode features a Matrix-like gunfight while the closing of another is practically a shot-for-shot recreation of the Empire Strike's Back finale.
Unfortunately for US readers of this blog, unless you buy a region-free DVD player or drop by my house for a cup of tea, you'll never get to see it. The rights issues over musical tracks used in the program have deemed it to be far too expensive to release on this side of the pond.
After Spaced, Pegg appeared in Black Books and later Doctor Who as the traitor to the human race in the episode 'The Long Game.' A longtime fan of the Classic Doctor Who series, Pegg thoroughly understood the camp yet serious demands of a super villain role in Doctor Who and performed the role with consummate skill. I just wish we could have seen more of him.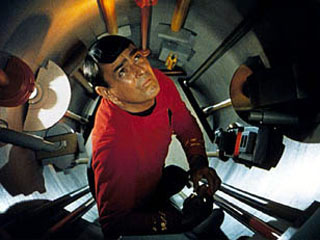 The role of Scotty is essentially all down to the late James Doohan, to be honest. We know nothing about Scotty as a person, he has no real defining skills aside from fixing the Enterprise in the nick of time by crawling into the same circuit-lined corridor… the character resides entirely in Doohan's delivery.
Keeping all that in mind, I'm very excited that Pegg has been cast in the role. As a skilled comedic and dramatic actor, he will bring a brand new take on the character that I am sure will pay homage to Doohan's portrayal.
So, uh… who's playing Kirk?
On Amazon: