Since the first issue of Sandman hit the shelves in 1989, Hugo Award winning author Neil Gaiman has been a near household name in comics. Many wondered where this writer had come from as the Sandman series continued to spawn fans by the truckload.
The success of Neil Gaiman is built entirely on the Sandman series, which is built entirely on the success of the trade paperback. As the single issues of the hit series disappeared from shelves only to be mounted on the walls of comic shops demanded high prices, DC Comics decided to collect story lines into what later became known as trade paperback format.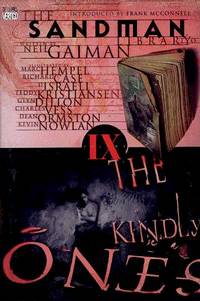 This is not to say that the 'trade,' as it is called, never existed before. Marvel and DC Comics released amazing collections of their best stories in the Fireside Books imprint of Houghton Mifflin in the 70′s. But the reasoning with the Sandman trades was twofold; the cost of the individual issues was too high and it allowed DC Comics to reach a new audience, those few that bought comics in the book store.
It was a roaring success leading to new readers coming into the series thanks to the trade paperback filling in the gaps.
Building his reputation on writing adult fantasy that still utilized a child-like view of reality, Gaiman's ability to use public domain characters and stories won over a readership unfamiliar and uninterested in comic books. Several of the characters, situations and stories in Gaiman's Sandman series were, in essence, rewrites or re-interpretations on myth and folklore. This is something that many are familiar with today (seen in films such as Shrek, Hoodwinked and the like), but at the time, it blew the minds of the comic book community and quickly earned him clout with DC Comics.
Gaiman went on to write the Stardust Graphic Novel with Charles Vess, Mirrormask with Sandman cover artist Dave McKean, and many more projects including a series of short story collections and novels that have placed his name on the best seller's list. Rubbing elbows with other celebs has not hurt Gaiman, who based one of his Sandman characters on his friend, Tori Amos.
His first foray into live action, Neverwhere, was not a resounding success. The production values and camp acting made Doctor Who look extravagant and refined by comparison. Nevertheless, it was a unique opportunity for fans of his work to his ideas play out in a new medium. And seeing as how there were no programs like it on TV at the time, it succeeded in filling a void left by programs such as Sapphire and Steel, Doctor Who and The Tomorrow People on British TV.
Following his TV series, Neil struggled through a less than enjoyable collaboration with McKean that resulted in the 'Mirrormask' feature film. The difficulties the duo encountered have not deterred his desire to develop his stories for the big screen. However, Gaiman has had better luck and is readying himself for the director's chair in due time.
Currently, the film adaptation of Stardust is headed to cinemas across the world. A major motion picture from Paramount Pictures starring Claire Danes, Robert DeNiro, Michelle Pfeiffer and Sienna Miller will premiere this Summer (Paramount won Gaiman over with a promise that they will back a further film solely directed by him).
Stardust audience members will also catch a 20 minute screener of the upcoming Beowolf, co-written by Neil and collaborator Roger Avery. Just in time for Halloween, the Gaiman/McKean creation Coraline will be hitting the theaters as a 3-D animated film.
Seeing his name on the big screen is sure to strike a chord with many of his devoted readers. While many discovered his fantasy-infused world as teenagers 20 years ago, they are now quieting children so that they can catch Danes and DeNiro sharing screen time in a film about undying love, magic crystals and jolly pirates (I thought I'd never write that sentence). With such a built-in audience and a child-friendly imagination, the potential for Neil to make a big splash as a filmmaker is definitely real.
With the production of Hellboy 2 already underway, Neil is sticking close to another close friend, director Guillermo del Toro, so that he can learn how to take advantage of Paramount Picture's promise and finally direct a film version of the characters that made him famous.
Suggested Reading/Viewing:
The Absolute Sandman, Vol. 1

The Sandman Vol. 2: The Doll's House

Coraline

American Gods

Neil Gaiman's Neverwhere

Mirrormask