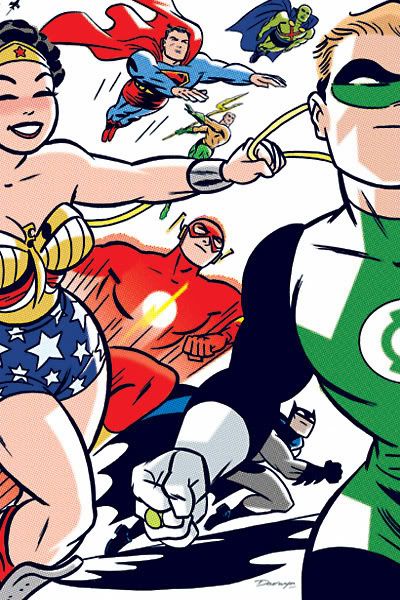 The cast of the upcoming Direct-to-DVD DC Animated film based on Darwyn Cooke's series New Frontier has just been announced… well, most of it.
New Frontier is a six part limited series (recently collected in two softcover and one oversized deluxe hardcover edition) that looked at the 'space age' of America through the lens of the Silver Age of Super Heroes.
Featuring the classic DC Comic book characters in new situations, the series is masterfully written and drawn. Creator Darwyn Cooke is no stranger to animation and assisted on the Batman Beyond animated series.
As soon as the animated adaptation was announced Darwyn's fans have been aflutter with anticipation. It's still months away, but details are filtering through, such as the casting of key characters listed below…
Kyle Maclachlan as Superman, Lucy Lawless as Wonder Woman, Brooke Shields as Carol Farris (Green Lantern's love interest), Phil Morris as King Faraday, David Boreanaz as Hal Jordan/Green Lantern, Neil Patrick Harris (yes, that Neil Patrick Harris) as the Flash.
No word on Batman, Martian Manhunter, John Henry Steel or any of the other main characters but so far it's shaping up to be quite a major animated film cast.
I hope the star-power doesn't hinder the amazing storytelling of Darwyn Cooke and the DC Animated team.
I'm still trying to figure out of they'll stick with the 'War That Time Forgot' opening from the comicbook series. Seeing the soldiers tackling that T-Rex would be a real thrill!
Suggested Reading:
Absolute DC: The New Frontier

DC: The New Frontier, Vol. 1

DC: The New Frontier, Vol. 2

Batman: Ego and Other Tales

Catwoman: Selina's Big Score

Showcase Presents: The War That Time Forgot, Vol. 1