In 1985, DC Comics had become paranoid that they were losing readers to their edgier competitor, Marvel Comics.
At the time, many thought of DC as more fantasy-oriented and geared to kids. With Superman impervious to harm except for Kryptonite that came in every color of the rainbow and Batman placing his crazed villains in the revolving door of Arkham Asylum, readers were growing hip to the more down-to-earth and angst-ridden appeal of comics like Claremont's X-Men and Frank Miller's Daredevil.
Something had to be done.
It was decided that the problem was this 'multiple Earths' nonsense. As I've mentioned in previous posts, the Flash discovered another Earth that moved at a different vibrational frequency to his own where there existed counterparts to certain characters such as Batman, Green Lantern and Superman as well as the comic book character Barry Allen was inspired by, the Flash.
On this other world, the heroes were active during WWII as the super group, the Justice Society of America. This world, dubbed Earth-2, became the setting of a super team revival and a tool for writers such as Paul Levitz and Roy Thomas to show off their comic book knowledge by creating the new series JSA and All Star Squadron, comics that utilized the war time heroes in the past and present.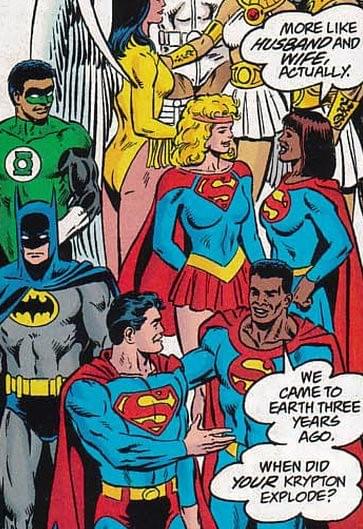 That was just the beginning, though. Earth S, X, 3, etc were all introduced, resulting in a lengthy discussion every time a fist was thrown in order to explain that the Huntress was the daughter of Batman and Catwoman of Earth-2.
Marv Wolfman and George Perez began work on a character called the Monitor, who was fueling certain events on Earth-1 and watching the outcome from his hovering space station. The payoff was originally called 'History of the DC Universe,' but later got called the more exciting 'Crisis on Infinite Earths.'
The series has lately gotten a lot of flack for being continuity-laden and characterless, but upon a recent re-read, I discovered that it's one of the most inspired and meaningful super hero comics I've read in a long time.
It has all the earmarks of a comic book classic:
Big ideas-the multiverse, anti-matter Weaponers of Qward, Barry Allen's skeletal image appears three times to warn Batman, Superman and Green Lantern of their impending doom, a wall of anti-matter eating up every universe in its path

Big villain- The Anti-Monitor and the united front of all the DC Universe's villains
Continuity-The use of Kronos and the origin of the Guardians of the Galaxy from a 60′s Green Lantern story, the demise of the Crime Syndicate of America as 'good' Lex Luthor sends his son to safety in a rocket a la the destruction of Krypton.
Heavy characterization- The Earth-2 Superman, Barry Allen's Flash and Supergirl are all defined by their actions with such heart and conviction that these moments can never be topped (this is why Supergirl has been revived about three times now without it feeling 'right' and why so many Flash fans want Barry Allen to stay dead)
Big cataclysmic deaths- Supergirl and The Flash die in two consecutive issues. Not only was this a massive blow to readers at the time, but it was also unexpected to follow one death with another one so quickly!
Crisis on Infinite Earths was a year long project constructed almost entirely by Woflman and Perez and featured every single DC Comics character… and even introduced new ones! Blue Beetle and the rest of the Charlton Comics characters (The Question, Nightshade, Captain Atom, Peacemaker) all make their first appearances as DC Comics characters in this series.
There was also the use of old characters such as Sgt. Rock, Enemy Ace and even Anthro the caveboy… it was this attention to detail and amazing grasp of each character that really makes the series so impressive to me.
On the one hand it defined DC Comics for the next few years, but it was also a deeply felt love letter to the entirety of DC Continuity, paying homage one last time to creators like Robert Kanigher and Joe Kubert before their creations were cast into limbo… until another creator decided to revamp them.
The outcome of Crisis on Infinite Earths was a massive reset switch for continuity. It was not clear exactly how this would shake down until the following month's mini-series 'Legends' arrived.
I have to admire the approach by DC Editorial at the time. They quickly unveiled three revamps of their core characters and a brand new version of their flagship team title:
The New Justice League by Keith Giffen and Kevin Maguire

Superman: Man of Steel- By John Byrne and Marv Wolfman

Batman Year One- By Frank Miller and David Mazzuchelli

Wonder Woman- By George Perez

These titles were the first DC Comics I had purchased as a kid with my own money. Before that, I was strictly a Marvel Zombie by choice. But these new takes on the characters were so vibrant and inspired that I was sold. I dropped Batman after it became clear that Frank Miller was not the regular writer but stuck with two of the three Superman titles and Wonder Woman for about ten issues. I even collected the Justice League title for over 50 issues before the concept became tired and the title transformed into the standard super hero fare I was bored by in the first place.
The changes to the DC Universe were mainly cosmetic, but the result was a comic book universe that felt so new that it no longer belonged to comic book history, it was now in the hands of the new readers, like me.
Like most things in comics, this did not last and since the original Crisis there have been many 'universe defining' stories that have re-written DC History. The 'new' feel to the DC Comics soon became a continuity-laden wreck that lost them more new readers than the events of 1985 gained them. This might be why Crisis on Infinite Earths is looked upon as the beginning of 'all that's wrong with comics today.'
By all that's wrong I'm referring to massive cross-over event stories that tie into every monthly title and promise that everything will change, but inevitably leave the reader with nothing more than an empty wallet and one or two new monthly titles that are soon canceled due to low sales.
Crisis on Infinite Earths promised so much, but in the end it was the same old story.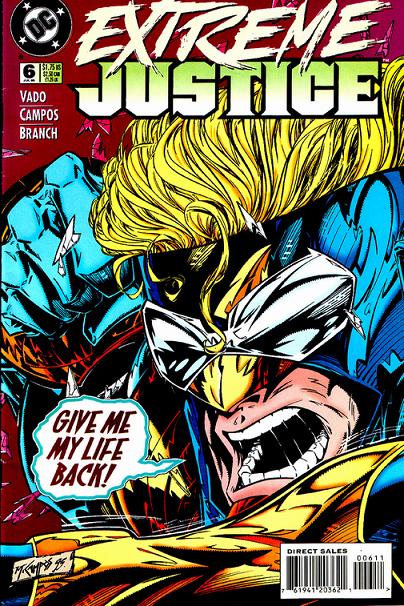 Right now, DC Comics is in the middle of a comic universe-wide rewrite that has been going on for over two years. It all began with the 2005 mini-series sequel to Crisis on Infinite Earths, Infinite Crisis.
While the Crisis of 1985 was very clear almost immediately in what it set out to do, it's still unclear what has changed in the wake of the mega-event 'Infinite Crisis.'
This is really unfortunate and a definite sign that DC Editorial does not have its act together to pull off what it set out to do, which might be why I'm hearing that the current Editor in Chief and architect of Infinite Crisis, Dan Didio, is on the outs.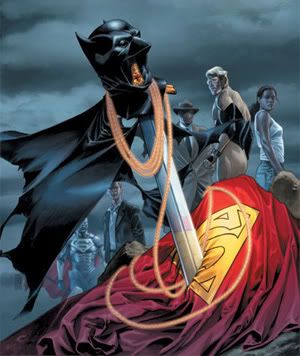 The excellent 52 series which followed the fall-out of Infinite Crisis showed what a world without Superman, Batman, and Wonder Woman would be like. Written by Geoff Johns, Mark Waid, Grant Morrison, and Greg Rucka with breakdowns by Keith Giffen, the series is one of those rare events where it delivers what it promises, a suspenseful and thrilling series that any newcomer can read with absolute enjoyment.
The series focused on stories involving 'B-list' characters such as Renee Montoya, the Question, Steel, and Booster Gold. The stories involve a re-awakening of the multiverse and was such a hit that its sales showed DC Comics that they could hold the interest of their readers with a weekly comic.
This leads to the current weekly comic book series Countdown, which seeks to re-establish the multiverse that the original Crisis erased. Done correctly, this entire exercise can out-perform the success of the original company-defining series, Crisis on Infinite Earths.
But in the comics world, if you really want to see if lightning can strike twice, you just have to keep reading.
Recommended reading:
Crisis on Infinite Earths (Absolute Edition)

Infinite Crisis (DC Comics)

Batman: Year One

Superman: The Man of Steel, Vol. 1

Wonder Woman Vol. 1: Gods and Mortals

New Beginning (Justice League (DC Comics))

52, Vol. 1