An epic sci-fi comic book series, the story of Luther Arkwright goes all the way back to the 70′s, where it premiered as a short strip in Brainstorm Comix.
Beset by publishing problems, the series was released by several publishers until it was finally collected in The Adventures of Luther Arkwright
trade paperback by Dark Horse Comics in 1999 (alongwith the sequel Heart Of Empire: The Legacy Of Luther Arkwright
).
Luther Arkwright is a complex and rich story with elements of intrigue, action, and the then relatively unknown genre of alternate histories.
Set in an alternate England, where a Puritanical Parliament has ruled over the land for a hundred years after the English Civil War. Under the harsh rule of a direct descendant of Oliver Cromwell, the country is a hellishly cruel land.
In this absurd and dangerous setting, we find our hero, the dimension-hopping Luther Arkwright battling the insectoid Disruptors in their plot to further distort history.
While Luther is haunted by strange dreams and visions, a plot is put into motion to restore the Monarchy by placing Prince Charles on the throne. All indications point toward a second Civil War. With time against him, Luther must ensure that the Disruptors are foiled by making sure the right side wins.
Not just the fate of one world, but that of all realities hangs in the balance.
Bryan Talbot's series bears a close similarity to Michael Moorcock's time-traveling assassin, Jerry Cornelius (of The Cornelius Quartet: The Final Program, A Cure for Cancer, The English Assassin, The Condition of Muzak
). Both creators have publicly agreed that the similarities are just that, however, and in no way an act of plagarism.
Drawn in a unique and very underground style, the series is a landmark in independent comics and perhaps the most succesful sci-fi comic series to date.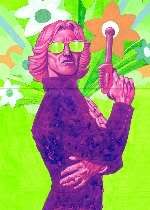 Influencing the mind of Grant Morrison who later paid homage to both Talbot's and Moorcock's characters with his own devlish dimension-hopper, Gideon Stargrave in Entropy in the UK (The Invisibles, Book 3)
series.
The Adventures of Luther Arkwright exploded in the comics world with all the power of an H-Bomb, leaving the fall-out of ideas to drift into the minds of new creators.
Talbot's series was nominated for eight Eagle Awards in 1988, and won four:

Favourite Artist
Best New Comic
Favourite Character for Arkwright himself
Best Comic Cover
Hailed by comic book creator Warren Ellis as "probably the single most influential graphic novel to have come out of Britain to date… probably Anglophone comics' single most important experimental work."
Ellis, however, is not alone in his accolades as seen by this impressive list!
"A work ambitious in both scope and complexity that still stands unique upon the comics landscape . . . stunning."- Alan Moore
"I love the illustrative style. Talent is profoundly international and Luther Arkwright should sell on a universal scale. I get a great joy out of it."- Jack Kirby
"Arkwright is very imaginative and exploratory and is really pushing back the boundaries of the comic medium"- Will Eisner
"Ambitious, dense, exciting, stimulating, Arkwright is a tightly etched vision of the other side of Now presented by a master craftsman."- Neil Gaiman
"Good classical music to me… stimulating, fresh and better than most of the comic stuff done here, France or America."- Michael Moorcock
"Luther Arkwright is in a noble tradition of English fantastical fiction. Offbeat and bizarre, it constantly defies expectation."- Clive Barker
Bryan Talbot and Mark Wright, recently collaborated on adapting the series into an audio drama by Big Finish featuring the vocal talents of several well-known UK sci-fi personalities.
Blakes 7
star Paul Darrow

Doctor Who #10, David Tennant

and former Doctor Who companion to Paul McGann, India Fisher.
A natural for the silver screen, last year it was announced that Arkwright is being looked at for live-action adaptaion.
But the big question is… who will play the title character?
While we wait why not look at the Daily P.O.P. Shop for recommended books, DVDs, comics and more?