With the success of the new Doctor Who
series by BBC Wales, there have been rumors of a feature length film.
Since David Tennant has been so accepted in the role by the public at large, this film would logically star the tenth actor to play the Doctor, correct?
Well… maybe not.
The story, according to SYFY Portal, is that due to the continued success of the 8th Doctor adventures on BBC Radio and on CD, we may be seeing a brand new/old take on the good Doctor.
Last seen in the TV movie titled by some as 'The Enemy Within,' Paul McGann is currently being courted to portray the Doctor once more.
McGann has a very large cult following as an actor inside and outside of Doctor Who. From his roles in 'Withnail and I
,' 'Alien 3
' and 'Empire of the Sun
,' he has shown great character and range seen by very few of the actors to play the part of the Doctor save Chris Eccleston.
Similar in tone to previous incarnations, McGann's Doctor has seemed more of a restrained Tom Baker
or livelier Peter Davison
, depending on your view of things. In any case, his portrayal is definitely more on the side of a classic take on the character rather than the more hip and modern Doctor currently on TV.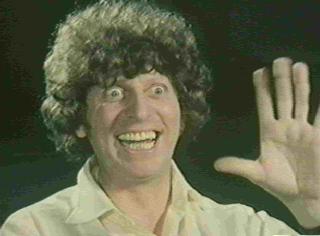 If this rumor is true, it would be the third time two versions of the Doctor would be running at the same time.
Previous to this we had Peter Cushing (Doctor Who and The Daleks, Doctor Who – Daleks – Invasion Earth 2150 AD
) on the screen with William Hartnell on the tube in The Dalek Invasion of Earth
and Jon Pertwee
on the radio and Colin Baker
on TV in 1984.
Weird world, ain't it?
Suggested viewing/listening:
Doctor Who -The Movie with Paul McGann [Region 2]

The Doctor Who Movie Collection-Peter Cushing

Sword of Orion (Doctor Who)

Doctor Who -The Paradise of Death(BBC Radio Collection)
Look for recommended goodies at the Daily P.O.P. Store!